05.10.2018
[Achieved] The Demonic Capital: Rashomon Official Announcement and Pre-Release Campaign



Starting on May 16th, it's Fate/Grand Order's newest event: "The Demonic Capital: Rashomon!"
"The Demonic Capital: Rashomon" is a Limited Time Challenge Event!
The story unfolds in Heian period Kyoto. Team up with Sakata Kintoki to take down the oni Ibaraki-Douji!
This event will include a new type of quest, in which all Masters team up to slay Ibaraki-Douji. "Rashomon Raids" will appear multiple times over the course of the event.
Damage you deal to Ibaraki-Douji in Rashomon Raids will be awarded to you as Damage Points. You will be rewarded with various items as you accumulate Damage Points.
Furthermore, Daily Missions will appear with each Rashomon Raid. Clear them to receive further rewards.
To commemorate the occasion, we're holding a Pre-Release Campaign on the Fate/Grand Order Official Facebook!
Since you helped us get the pinned post "The Demonic Capital: Rashomon Pre-Release Campaign" to 17,000 Likes OR 7,000 shares within the campaign period, every Master will receive 3 Saint Quartz!
Check out the post for an exclusive look at the new Limited Time Servant "★5 (SSR) Shuten-Douji" and her Noble Phantasm!
As always, thank you to every Master for your participation!
Fate/Grand Order Official Facebook: @FateGO.USA
Campaign Period:
Until 2018-05-15 20:59 PDT
Eligibility:
All users playing "Fate/Grand Order" as of 2018-05-15 20:59 PDT
Present Details:
- Saint Quartz x3
Planned Distribution Date:
2018-05-16 00:00 PDT
Distribution Method:
Present Box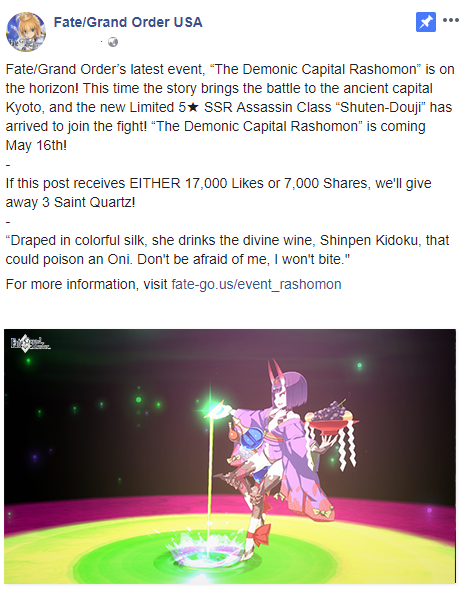 * Clicking on the image will redirect you to the designated post on our official Facebook page