05-20 PDT
Regarding 05-23 Game Update
Thank you for playing "Fate/Grand Order".
Chaldea PR Dep't is pleased to announce a large-scale game update scheduled for 2022-05-23 PDT.
Read on for details about changes included in the update.
* All screenshots are of the development version.
◆New Functionality:
1. New "Servant Coin" Element Added to the Game!
"Servant Coins" have been added to the game as a new element of Servant Enhancement!
Use "Servant Coins" to strengthen your favorite Servants even further!
Click here for details!
---
2. Emphasize a Favorite Servant to Your Friends
The "Push! Servant" function will let you show your favorite Servant to Friends and Followers.
You can set a "Push! Servant" from the Servant Details screen and Select Servant screen. * Please note that Servants who have temporarily joined your roster cannot be set as your "Push! Servant".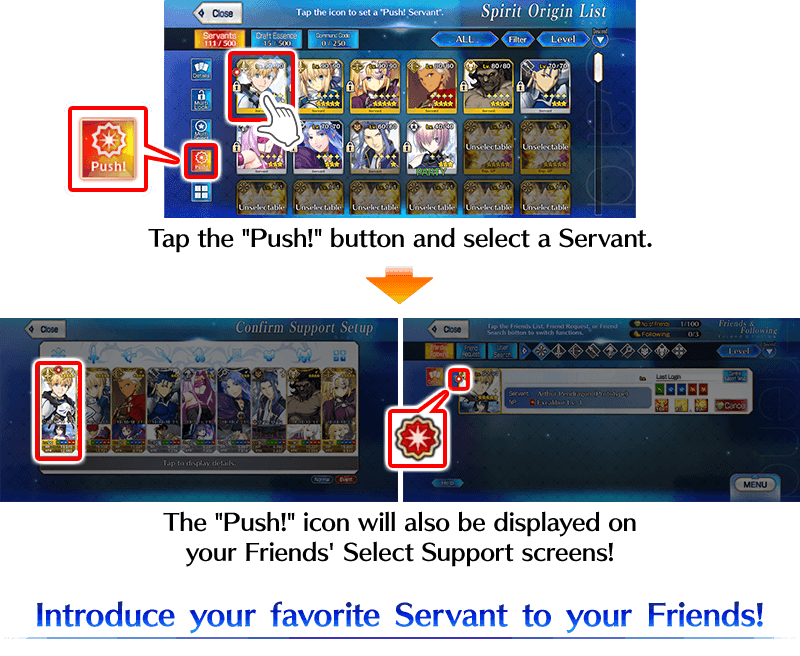 ◆Improvements:
1. Master Profile Birthday Can Be Set to February 29
The Master Profile has been updated so that your birthday can be set to February 29.
If you have already set your birthday before this update it, it will be possible to change the setting only once. * In non-leap years, your Servants' birthday voice lines will be played on February 28.

---
2. Filter Settings Window Improved
The text display area and button positions have been adjusted on the filter settings window viewable from the Select Servants screen and other screens. The scroll area has been enlarged.
Plus, the scroll bar position will be maintained across all filters.

---
3. QP Inventory Cap Approximately Doubled!
For all Masters, the maximum amount of QP that can be held at once has been approximately doubled to 2 billion QP!
Since you can now store more QP, it will be easier to gather the QP you need to strengthen your Servants!
QP Inventory Cap:
| Before Expansion | After Expansion |
| --- | --- |
| 999,999,999 QP | 2,000,000,000 QP |
---
4. Full Screen Noble Phantasm Animations Added for More Servants
Noble Phantasm animations have been updated to support full screen display for certain Servants.
Class
Rarity
Servants
Saber

★★★★★

Altria Pendragon

★★★★★

Arthur Pendragon (Prototype)

★★★★★

Beni-Enma

★★★★★

Dioscuri

★★★★★

Sigurd

★★★★

Altria Pendragon (Alter)

★★★

Fergus mac Roich

★★★

Gilles de Rais
Archer

★★★★★

Gilgamesh

★★★★★

Nikola Tesla

★★★★

Atalante

★★★★

Emiya

★★★

Billy the Kid

★★★

David

★★★

Gilgamesh (Child)

★★★

Tawara Touta

★★★

William Tell
Lancer

★★★★★

Brynhild

★★★★★

Enkidu

★★★★

Altria Pendragon (Alter)

★★★★

Li Shuwen

★★★★

Pārvatī

★★★★

Vlad III (EXTRA)

★★★

Diarmuid Ua Duibhne

★★★

Houzouin Inshun

★★★

Jaguar Warrior

★★★

Romulus

★★

Leonidas I
Rider

★★★★★

Francis Drake

★★★★★

Quetzalcoatl

★★★★

Altria Pendragon (Santa Alter)

★★★★

Anne Bonny & Mary Read

★★★★

Astolfo

★★★★

Carmilla

★★★

Alexander

★★★

Mandricardo
Caster

★★★★★

Leonardo da Vinci

★★★★

Elisabeth Báthory (Halloween)

★★★★

Helena Blavatsky

★★★★

Irisviel (Holy Grail)

★★★★

Miyu Edelfelt

★★★

Asclepius

★★★

Gilles de Rais

★★★

Mephistopheles

★★★

Paracelsus von Hohenheim

★★

Chen Gong

★★

William Shakespeare
Assassin

★★★★★

Mysterious Heroine X

★★★★★

Shuten-Douji

★★★★

Katou "Black Kite" Danzo

★★★★

Ushiwakamaru

★★★★

Wu Zetian (Assassin of the Nightless City)

★★★★

Yan Qing (Assassin of Shinjuku)

★★★

Fuuma "Evil-wind" Kotarou

★★

Charles-Henri Sanson
Berserker

★★★★★

Mysterious Heroine X (Alter)

★★★★

Frankenstein

★★★★

Kijyo Koyo

★★★★

Penthesilea (Berserker of El Dorado)

★★★

Lu Bu Fengxian

★★

Eric Bloodaxe
Ruler

★★★★★

Sherlock Holmes
◆Improvements to the UI:
1. "EVENT MISSION" Icon Color Updated on Mission Progress Board
The color of the "EVENT MISSION" icon displayed on the mission progress board has been changed from green to purple for better visibility.

---
2. Servant Skill Details Made Easier to Read
For Servant skills with long effect explanations, the text size displayed on the Servant Details screen was previously made smaller to fit within the UI. We have adjusted the display area on the UI so the full text can be read at the same size as other skill effects.
With some exceptions, the skill effect display area has been adjusted similarly for all other screens, such as during battle or Skill Enhancement.

---
The above are the main changes included in the update scheduled for 2022-05-23 PDT.
Thank you for your continuing support of "Fate/Grand Order".