03-14 PST
[Ended] [Campaign] Interlude Campaign: Part Eight


For a limited time, take advantage of "Interlude Campaign: Part Eight"!
Interlude AP costs will be halved for a limited time!
Fulfill the requirements to unlock each Interlude, and take advantage of this opportunity to enjoy your favorite Servants' stories!
* In-game graphics may vary from the images used within this article.



Campaign Period:
2021-03-15 21:00 - 03-22 20:59 PDT
Eligible Quests:
All Interludes
* This includes the Interludes that will be added on 2021-03-15 21:00 PDT.
About Servants' True Names:
As of 2021-01-01 00:00 PST, Servants whose True Names are hidden will be referred to by their True Name within newly released Main Story chapters, Limited Time Events, certain quests, campaigns, and Pickup Summons.
* This will not apply to already released chapters, Revival Limited Time Events, and certain quests.

Release Date:
2021-03-15 21:00 PDT
Eligible Servants:
- Semiramis
- Florence Nightingale
- Hijikata Toshizo
- Yagyu Tajima-no-kami Munenori
- Yu Mei-ren
- Avenger of Shinjuku (Hessian Lobo)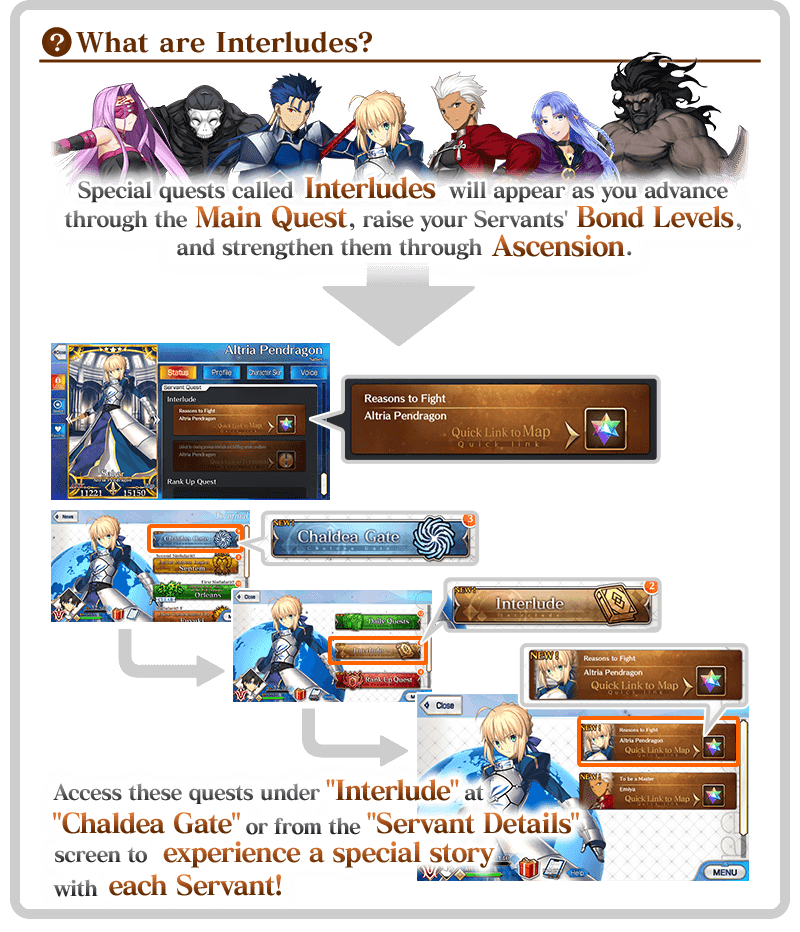 How to Unlock

:
- Clear Singularity F
- Achieve Stage 1 Ascension
- Achieve Bond Lv. 5



Interlude Rewards

:

- 1 Saint Quartz




How to Unlock

:
- Clear Final Singularity
- Achieve Stage 3 Ascension
- Achieve Bond Lv. 5
- Clear Interlude I



Interlude Rewards

:

- 1 Saint Quartz




How to Unlock

:
- Clear Singularity F
- Achieve Stage 3 Ascension
- Achieve Bond Lv. 3



Interlude Rewards

:

- Strengthen Hijikata Toshizo's Noble Phantasm




How to Unlock

:
- Clear Pseudo-Singularity III and Lostbelt No. 3 Prologue
- Achieve Stage 3 Ascension
- Achieve Bond Lv. 5



Interlude Rewards

:

- 1 Saint Quartz




How to Unlock

:
- Clear Lostbelt No. 3
- Achieve Stage 2 Ascension
- Achieve Bond Lv. 3



Interlude Rewards

:

- 1 Saint Quartz




How to Unlock

:
- Clear Pseudo-Singularity I
- Achieve Stage 3 Ascension
- Achieve Bond Lv. 5



Interlude Rewards

:

- Strengthen Avenger of Shinjuku (Hessian Lobo)'s Noble Phantasm