12-08 PST
[Ended] [Campaign] Interlude Campaign: Part Four


For a limited time, take advantage of "Interlude Campaign: Part Four"!
Interlude AP costs will be halved for a limited time!
Fulfill the requirements to unlock each Interlude, and take advantage of this opportunity to enjoy your favorite Servants' stories!
Campaign Period:
2019-12-08 20:00 - 12-21 19:59 PST
Eligible Quests:
All Interludes
* This includes the Interludes that will be added on 2019-12-08 20:00 PST.



Release Date:
2019-12-08 20:00 PST
Eligible Servants:
- Caster of Midrash
- Gorgon
- Jaguar Warrior
- Medusa (Lancer)
- Nezha
- Quetzalcoatl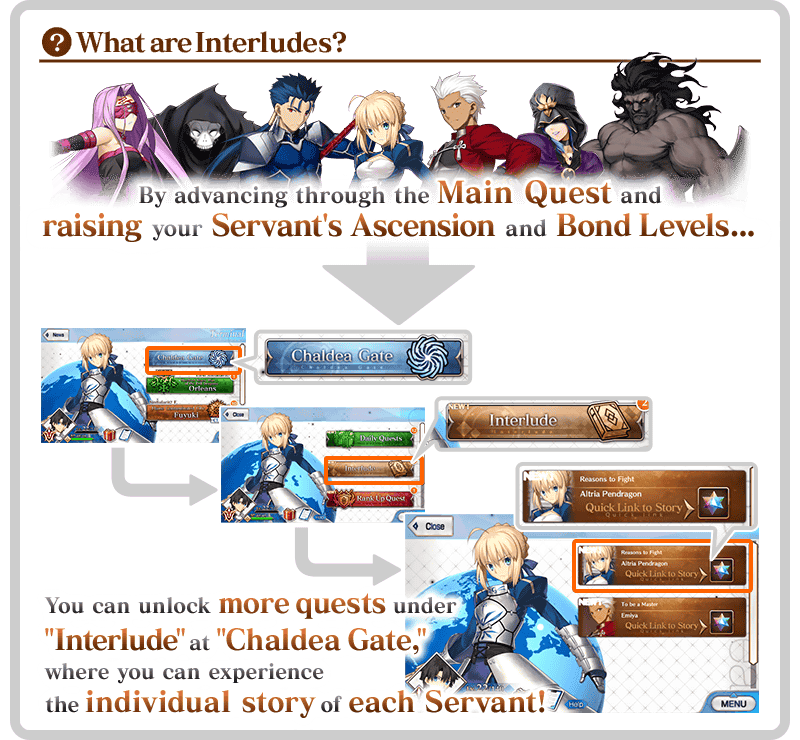 How to Unlock

:
- Clear Pseudo-Singularity IV
- Achieve Stage 1 Ascension



Interlude Rewards

:

- 1 Saint Quartz




How to Unlock

:
- Clear Seventh Singularity
- Achieve Stage 3 Ascension
- Achieve Bond Lv. 5



Interlude Rewards

:

- Strengthen Gorgon's Noble Phantasm




How to Unlock

:
- Clear Final Singularity
- Achieve Stage 1 Ascension
- Achieve Bond Lv. 3



Interlude Rewards

:

- 1 Saint Quartz




How to Unlock

:
- Clear Seventh Singularity
- Achieve Stage 2 Ascension
- Achieve Bond Lv. 4



Interlude Rewards

:

- Strengthen Medusa (Lancer)'s Noble Phantasm




How to Unlock

:
- Clear Final Singularity
- Achieve Stage 1 Ascension
- Achieve Bond Lv. 3



Interlude Rewards

:

- 1 Saint Quartz




How to Unlock

:
- Clear Final Singularity
- Achieve Stage 1 Ascension
- Achieve Bond Lv. 4



Interlude Rewards

:

- 1 Saint Quartz