06-19 PDT
Fate/Grand Order Hints and Strategies (06-19 21:00 PDT)


We'll be periodically sharing useful information about game functionality and other tips on the "Fate/Grand Order" official Twitter and Facebook!
* Game display and operations may change with future updates.
◆Copying a Party (Added on June 19th)
Use the Party Copy feature when you want to create another party with a similar formation (for example, changing Craft Essences only during an event).
Select "Copy Party" from the "Edit Party" menu on the Party Setup screen.

◆Event Bonus Filter (Added on June 12th)
Within Limited Time Events, certain Craft Essences and Servants may grant various event bonuses.
Use the Event Bonus Filter on the Party Setup and other pages to view only the relevant Servants or Craft Essences.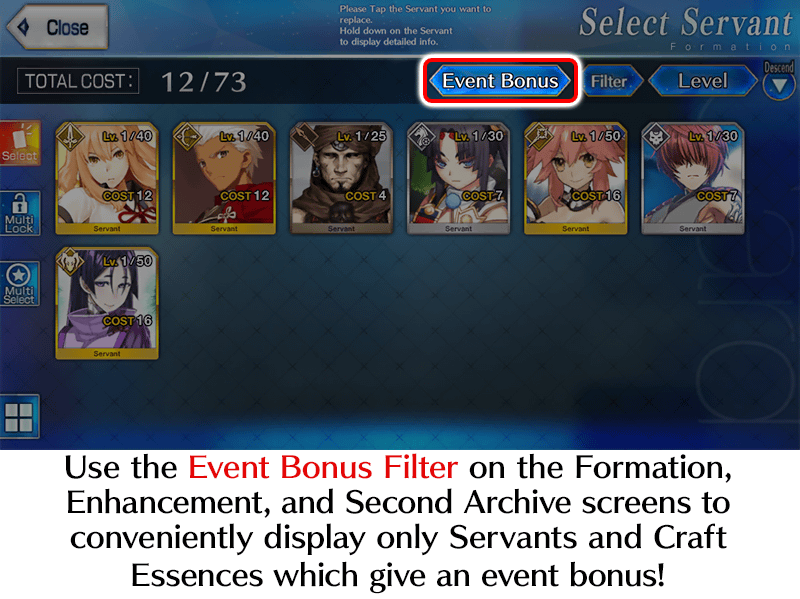 ◆Drag and Select (Added on June 6th)
When you possess a large amount of EXP cards and want to Enhance many Servants, the "Drag & Select" function is useful.
Tap, hold, and drag on the Servant and CE Enhancement material selection screens to quickly select materials!

◆View Previous Tips

◆Dropped Item Inventory Display◆
Tap the "Display" button on the upper right corner of the "Items Dropped" screen after a battle to switch to inventory display mode.
You can immediately check how many of a certain material or event item you have in your inventory.

---

◆Present Box Filter◆
The Present Box Filter will come in handy when you want to claim a certain type of item from a large amount of presents.
Select and deselect categories to be displayed. "Receive All" will claim only the items currently displayed.

---

◆Smart Sort◆
Try out the "Smart Sort" option on each Enhancement page.
This option makes it easier to select the Enhancement materials you want in various ways, such as moving Fous of the same class or the same Craft Essence to the top of the list.

---

◆Second Archive◆
If your Servant or Craft Essence inventory is full, use the Second Archive.
The Second Archive can be accessed from the "Formation" menu, allowing you to open up slots in your inventory.

---

◆Quest Information Target Display◆
When completing missions, pay attention to the Quest Information display!
Event Mission targets are labeled in blue, and Master Mission targets are labeled in red.
This function will be quite useful in the ongoing Limited Time Event!

---

◆Enemy Status Information◆
Tap and hold an enemy's name on the battle screen to display buffs and debuffs affecting the enemy, as well as turns remaining.
Keep an eye on the enemy's status to fight strategically!