12-31 PST
Start Dash Campaign!

Start Dash Campaign!
For brand new Masters, we have some special presents to help you get started!
The Start Dash Campaign has been updated as of the below date! Now's a better time than ever to start playing!
In addition to 40 Saint Quartz (worth 13 Saint Quartz Summons) and 10 Summon Tickets (worth 10 Saint Quartz Summons), in-game items Friend Points (usable for Friend Point Summon), Fire of Wisdom ALL ★3 (R) (used to raise Servant level), and Golden Fruit (used to regenerate AP) will also be available!
Campaign Period:
Starting from 2018-12-31 20:00 PST
How to Claim:
■Clear Quests
Clear the tutorial for 2 Saint Quartz, and "Singularity F: Flame Contaminated City, Fuyuki" for 10 more!
A total of 12 Saint Quartz, worth 4 Saint Quartz Summons!
■Login Bonuses
Log in for the first 7 days once you start playing to receive a special login bonus!
Total Rewards: 28 Saint Quartz (worth 9 Saint Quartz Summons), 10 Summon Tickets, 14,000 Friend Points (worth 70 Friend Point Summons), 16 Fire of Wisdom ALL ★3 (R), 16 Golden Fruit, and 1,000,000 QP!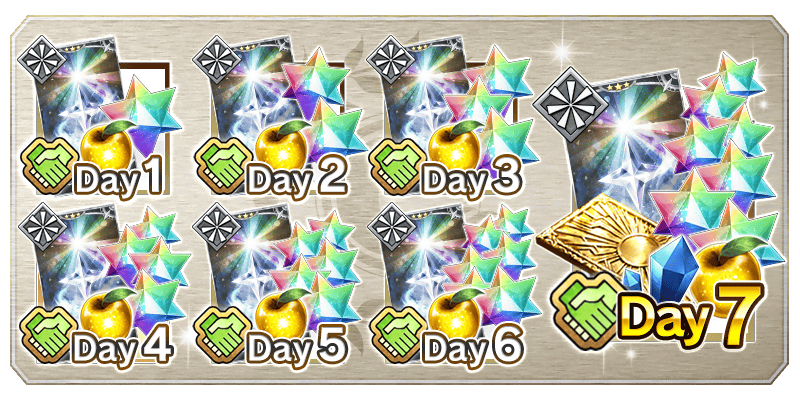 Login Streak
Start Dash Login Bonus
Day 1
Saint Quartz x 1
Friend Point x 2,000pt
Fire of Wisdom ALL ★3 (R) x 1
1 Golden Fruit
Day 2
Saint Quartz x 2
Friend Point × 2,000pt
Fire of Wisdom ALL ★3 (R) x 1
1 Golden Fruit
Day 3
Saint Quartz x 3
Friend Point x 2,000pt
Fire of Wisdom ALL ★3 (R) x 1
1 Golden Fruit
Day 4
Saint Quartz x 4
Friend Point x 2,000pt
Fire of Wisdom ALL ★3 (R) x 1
1 Golden Fruit
Day 5
Saint Quartz x 5
Friend Point x 2,000pt
Fire of Wisdom ALL ★3 (R) x 1
1 Golden Fruit
Day 6
Saint Quartz x 6
Friend Point x 2,000pt
Fire of Wisdom ALL ★3 (R) x 1
1 Golden Fruit
Day 7
Saint Quartz x 7
Friend Point x 2,000pt
Fire of Wisdom ALL ★3 (R) x 10
10 Summon Tickets
10 Golden Fruit
1,000,000 QP