08-06 PDT
[Ended] Summer! Ocean! Pioneering! FGO Summer 2018: Chaldea Summer Memory - The White Beach of Relaxation -



Event Period:
2018-07-26 00:00 - 08-14 20:59 PDT
* Please be aware that there will be a scheduled maintenance between 2018-08-05 21:00 - 08-06 00:00
Event Summary:
Summer vacation is here with the Limited Time Event "Summer! Ocean! Pioneering! FGO Summer 2018: Chaldea Summer Memory - The White Beach of Relaxation -"!
Collect event items to pioneer an uninhabited island.
By choosing between different plans, you can create a unique island of your own!
This event will be divided into two parts.
By clearing Part One, Event Limited Servant "★4 (SR) Scáthach (Assassin)" will temporarily join your roster.
Part Two is scheduled to start on 08-06 PDT.
You must have cleared Part One in order to participate in Part Two.
Part Two will feature a new map and new event items!
Clear the main quests to permanently add "Scáthach (Assassin)" to your roster.
Try your best to complete both parts and get your own "Scáthach (Assassin)"!
Event Eligibility:
Only Masters who have completed "Singularity F: Flame Contaminated City Fuyuki" will be eligible to participate.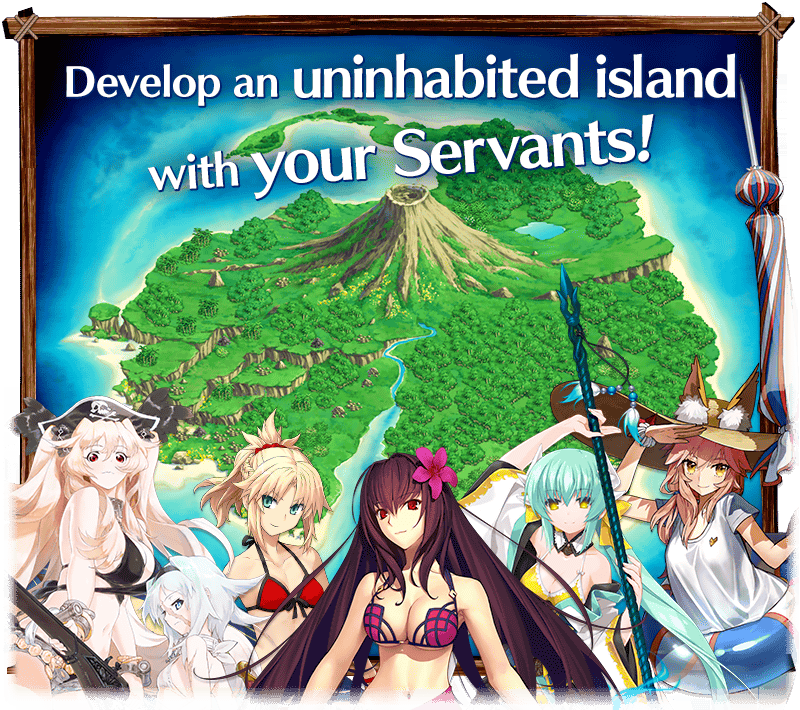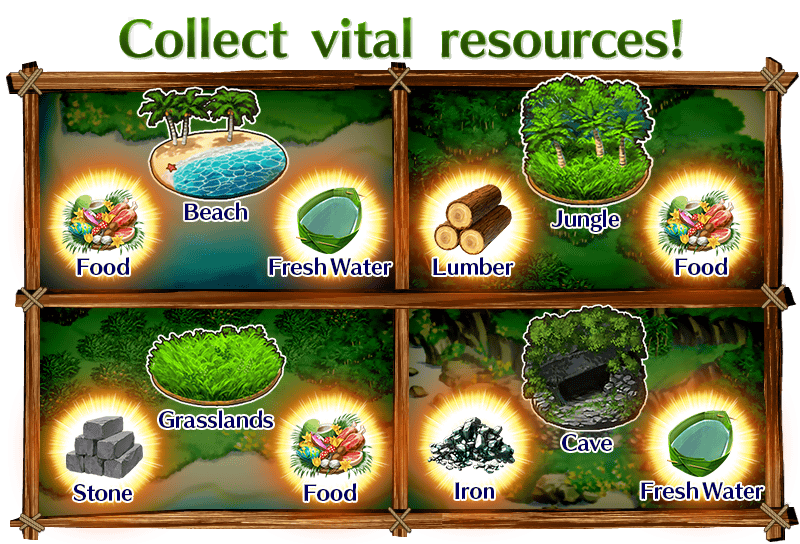 * New areas to collect resources will become available as you progress in the story.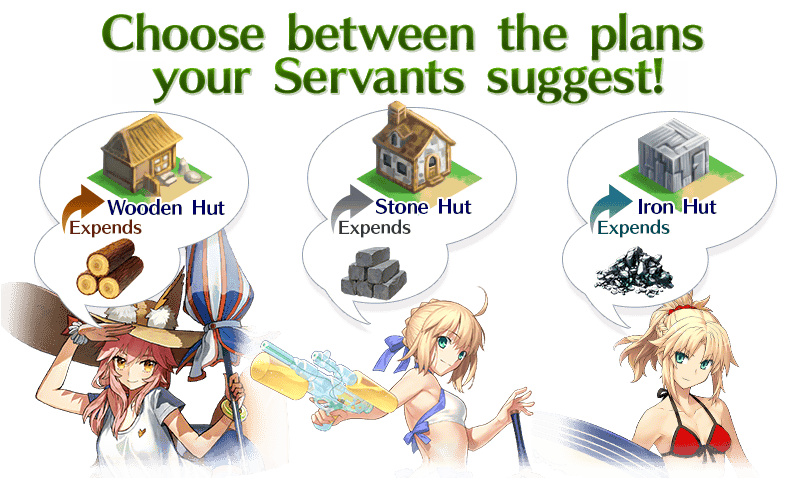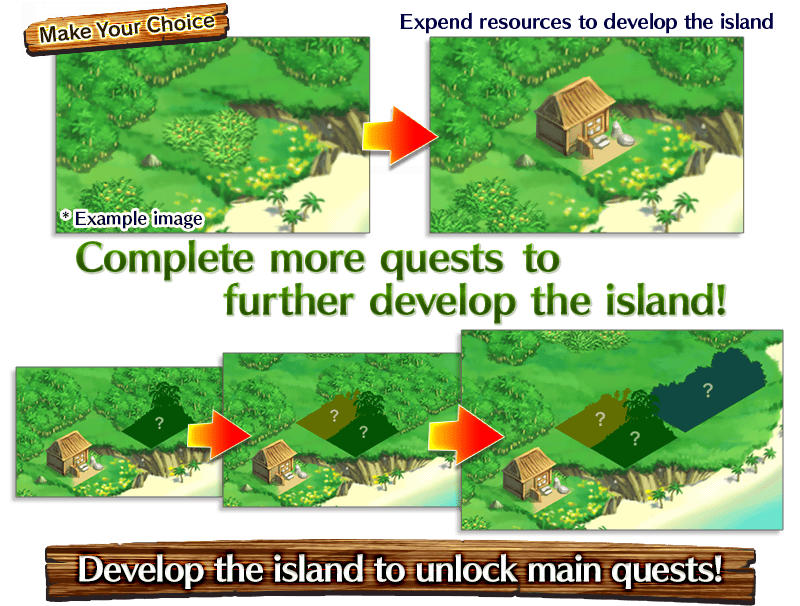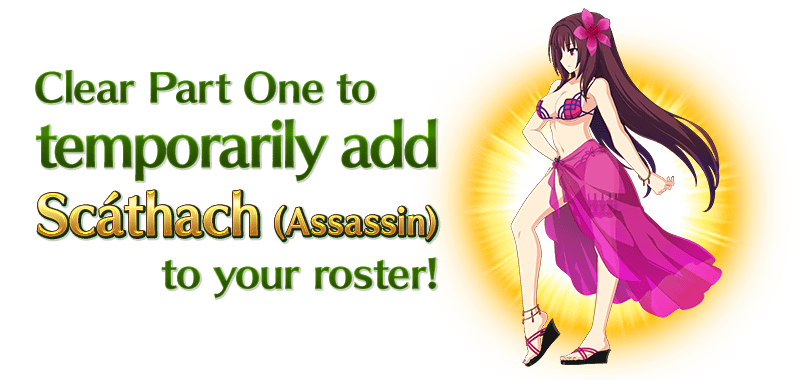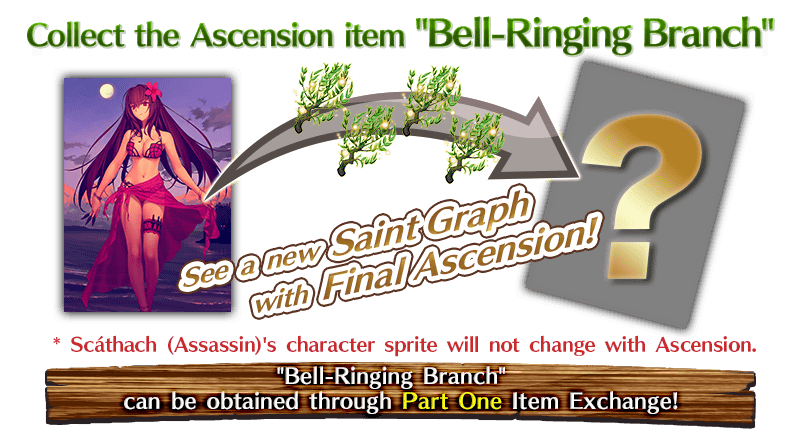 Development quests will appear as you progress in the story.
Choose 1 of 3 plans and expend resources (event items) to execute it.
Event items can be gathered through resource collection quests.
* When you execute one plan, the other two will disappear.
By executing reset quests, which will appear after clearing Part One, you can choose a different plan.

New story quests will appear once you have cleared a certain number of development quests, and new development and resource collection quests will appear as you progress in the story.
Gather resources and develop the island to progress in the story!

Brilliant Summer Quests:
These quests will appear as you progress through event main quests.
Enjoy the story and make special summer memories with the Event Limited Servants.
In addition, you will receive a Summon Ticket as a reward for clearing each quest.
Quest
Rewards
Brilliant Summer
- Going Out With Tamamo -
Summon Ticket x1
Brilliant Summer
- Together With Mordred -
Summon Ticket x1
Brilliant Summer
- A Date With Kiyohime -
Summon Ticket x1
Brilliant Summer
- An Expedition With Anne and Mary -
Summon Ticket x1
Shipwreck Quests:
By expending AP to challenge these quests and explore the island, you can gain large amounts of event items.
Shipwreck Quests will unlock at certain times, and will remain open for the duration of the event.
* Shipwreck Quests will disappear after being cleared.
Reset Quests:
Once you clear Part One, reset quests will be unlocked.
These quests will allow you to re-develop various areas of the island.
Try out the other choices for development quests, and enjoy developing the island as much as you like!

Hints and Strategies, Part 1:
All Servants will gain an event bonus!
Which event item will have a drop bonus depends on the Servant; for example, adding Altria Pendragon (Saber) to your party will gain you a bonus to "Food" drops.
Information about drop bonuses for specific Servants can be checked from the Confirm Party screen when starting a quest.

■Iron Drop Bonus Servants

| Class | Rarity | Servant |
| --- | --- | --- |
| Saber | ★★★★★ | Altera |
| Saber | ★★★★★ | Mordred |
| Archer | ★★★★★ | Arjuna |
| Archer | ★★★★★ | Nikola Tesla |
| Lancer | ★★★★★ | Brynhild |
| Lancer | ★★★★★ | Altria Pendragon |
| Rider | ★★★★★ | Queen Medb |
| Assassin | ★★★★★ | Mysterious Heroine X |
| Caster | ★★★★★ | Leonardo da Vinci |
| Berserker | ★★★★★ | Vlad III |
| Ruler | ★★★★★ | Amakusa Shirou |
| Avenger | ★★★★★ | Edmond Dantès |
| Saber | ★★★★ | Siegfried |
| Archer | ★★★★ | Emiya |
| Archer | ★★★★ | Oda Nobunaga |
| Archer | ★★★★ | Anne Bonny & Mary Read (Archer) |
| Lancer | ★★★★ | Altria Pendragon (Alter) |
| Rider | ★★★★ | Anne Bonny & Mary Read |
| Rider | ★★★★ | Mordred (Rider) |
| Caster | ★★★★ | Thomas Edison |
| Berserker | ★★★★ | Lancelot |
| Berserker | ★★★★ | Frankenstein |
| Caster | ★★★ | Paracelsus von Hohenheim |
| Caster | ★★★ | Charles Babbage |
| Rider | ★★ | Edward Teach |
| Berserker | ★★ | Eric Bloodaxe |
| Berserker | ★ | Spartacus |

■Stone Drop Bonus Servants

| Class | Rarity | Servant |
| --- | --- | --- |
| Saber | ★★★★★ | Nero Claudius (Bride) |
| Archer | ★★★★★ | Gilgamesh |
| Archer | ★★★★★ | Orion |
| Lancer | ★★★★★ | Karna |
| Rider | ★★★★★ | Iskandar |
| Rider | ★★★★★ | Ozymandias |
| Saber | ★★★★ | Nero Claudius |
| Saber | ★★★★ | Lancelot |
| Rider | ★★★★ | Marie Antoinette |
| Assassin | ★★★★ | Stheno |
| Caster | ★★★★ | Nitocris |
| Caster | ★★★★ | Marie Antoinette (Caster) |
| Berserker | ★★★★ | Heracles |
| Saber | ★★★ | Gaius Julius Caesar |
| Saber | ★★★ | Fergus mac Róich |
| Saber | ★★★ | Bedivere |
| Archer | ★★★ | Euryale |
| Archer | ★★★ | David |
| Archer | ★★★ | Gilgamesh (Child) |
| Assassin | ★★★ | Henry Jekyll & Hyde |
| Caster | ★★★ | Medea |
| Berserker | ★★★ | Darius III |
| Berserker | ★★★ | Lu Bu Fengxian |
| Lancer | ★★ | Leonidas I |
| Rider | ★★ | Georgios |
| Assassin | ★★ | Hassan of the Cursed Arm |
| Assassin | ★★ | Phantom of the Opera |
| Berserker | ★★ | Caligula |

■Lumber Drop Bonus Servants

| Class | Rarity | Servant |
| --- | --- | --- |
| Berserker | ★★★★★ | Sakata Kintoki |
| Berserker | ★★★★★ | Cú Chulainn (Alter) |
| Berserker | ★★★★★ | Minamoto-no-Raikou |
| Saber | ★★★★ | Rama |
| Saber | ★★★★ | Gawain |
| Archer | ★★★★ | Tristan |
| Lancer | ★★★★ | Li Shuwen |
| Lancer | ★★★★ | Kiyohime (Lancer) |
| Rider | ★★★★ | Altria Pendragon (Santa Alter) |
| Rider | ★★★★ | Sakata Kintoki |
| Berserker | ★★★★ | Ibaraki-Douji |
| Berserker | ★★★★ | Beowulf |
| Lancer | ★★★ | Cú Chulainn |
| Lancer | ★★★ | Cú Chulainn (Prototype) |
| Lancer | ★★★ | Diarmuid Ua Duibhne |
| Lancer | ★★★ | Romulus |
| Lancer | ★★★ | Hektor |
| Rider | ★★★ | Ushiwakamaru |
| Rider | ★★★ | Medusa |
| Caster | ★★★ | Mephistopheles |
| Caster | ★★★ | Gilles de Rais |
| Caster | ★★★ | Geronimo |
| Berserker | ★★★ | Kiyohime |
| Lancer | ★★ | Musashibou Benkei |
| Assassin | ★★ | Charles-Henri Sanson |
| Archer | ★ | Arash |

■Fresh Water Drop Bonus Servants

| Class | Rarity | Servant |
| --- | --- | --- |
| Saber | ★★★★★ | Okita Souji |
| Saber | ★★★★★ | Ryougi Shiki |
| Assassin | ★★★★★ | Jack the Ripper |
| Assassin | ★★★★★ | Shuten-Douji |
| Caster | ★★★★★ | Zhuge Liang (Lord El-Melloi II) |
| Berserker | ★★★★★ | Florence Nightingale |
| Ruler | ★★★★★ | Jeanne d'Arc |
| Avenger | ★★★★★ | Jeanne d'Arc (Alter) |
| Saber | ★★★★ | Altria Pendragon (Lily) |
| Saber | ★★★★ | Chevalier d'Eon |
| Archer | ★★★★ | Atalante |
| Lancer | ★★★★ | Fionn mac Cumhaill |
| Rider | ★★★★ | Martha |
| Assassin | ★★★★ | Emiya (Assassin) |
| Assassin | ★★★★ | Ryougi Shiki |
| Caster | ★★★★ | Medea (Lily) |
| Ruler | ★★★★ | Martha (Ruler) |
| Archer | ★★★ | Billy the Kid |
| Rider | ★★★ | Boudica |
| Assassin | ★★★ | Hassan of the Hundred Personas |
| Assassin | ★★★ | Hassan of the Serenity |
| Shielder | ★★★ | Mash Kyrielight |
| Caster | ★★ | Hans Christian Andersen |
| Assassin | ★ | Mata Hari |
| Caster | ★ | Wolfgang Amadeus Mozart |

■Food Drop Bonus Servants

| Class | Rarity | Servant |
| --- | --- | --- |
| Saber | ★★★★★ | Altria Pendragon |
| Archer | ★★★★★ | Altria Pendragon (Archer) |
| Lancer | ★★★★★ | Scáthach |
| Lancer | ★★★★★ | Tamamo-no-Mae (Lancer) |
| Rider | ★★★★★ | Francis Drake |
| Caster | ★★★★★ | Tamamo-no-Mae |
| Caster | ★★★★★ | Xuanzang Sanzang |
| Saber | ★★★★ | Altria Pendragon (Alter) |
| Lancer | ★★★★ | Elisabeth Báthory |
| Rider | ★★★★ | Astolfo |
| Assassin | ★★★★ | Carmilla |
| Assassin | ★★★★ | Scáthach (Assassin) |
| Caster | ★★★★ | Elisabeth Báthory (Halloween) |
| Caster | ★★★★ | Nursery Rhyme |
| Caster | ★★★★ | Helena Blavatsky |
| Caster | ★★★★ | Irisviel (Dress of Heaven) |
| Berserker | ★★★★ | Tamamo Cat |
| Saber | ★★★ | Gilles de Rais |
| Archer | ★★★ | Robin Hood |
| Archer | ★★★ | Tawara Touta |
| Rider | ★★★ | Alexander |
| Assassin | ★★★ | Jing Ke |
| Assassin | ★★★ | Fuuma "Evil-wind" Kotarou |
| Caster | ★★★ | Cú Chulainn |
| Caster | ★★ | William Shakespeare |
| Assassin | ★ | Sasaki Kojirou |
| Berserker | ★ | Asterios |

(Added on Aug 6th)

Hints and Strategies, Part 2:
You can gain a drop bonus for the event items "Fresh Water" and "Food" by equipping the Event Limited Craft Essence "★5 (SSR) Summertime Mistress," available through Event Item Exchange.

Hints and Strategies, Part 3:
You can gain a drop bonus for the event items "Iron," "Stone," and "Lumber" by equipping each of the following Limited Time Craft Essences.
* Please be aware that item drop rate is not 100%, regardless of the quest.

★★★★★SSR
Summertime Mistress
ATK 500 (MAX: 2000) HP 0
Skill
Increase Critical Strength by 15% & begin battle with NP charged at 30% for yourself + Increase Fresh Water and Food drop amount by 1 [Event only]

* Scáthach (Assassin) will temporarily join your roster after clearing Part One, and will be added permanently after clearing Part Two.
The Event Limited Ascension Material "Bell-Ringing Branch" will be necessary for Ascension.
Information about Noble Phantasm level up will be added with Part Two.

Exchange Period:
2018-07-26 00:00 - 08-31 13:59 PDT
* Fresh Water, Food, Iron, Stone, and Lumber will disappear at the end of the exchange period.
Event items can be exchanged for the following items and materials through "Event Item Exchange" in the Da Vinci Workshop.


Items Obtainable with Iron:

[Event Limited Craft Essence]
 ★5 (SSR) "Summertime Mistress"

[Event Limited Ascension Material]
 Bell-Ringing Branch
 * Unlocks after clearing Part One main quests.

[Skill Enhancement & Ascension Materials]
 Scarab of Wisdom
 Meteor Horseshoe

[Ascension Materials]
 Lancer Monument
 Lancer Piece

[Other Items]
 QP

Items Obtainable with Stone:

[Event Limited Craft Essence]
 ★5 (SSR) "Summertime Mistress"

[Event Limited Ascension Material]
 Bell-Ringing Branch
 * Unlocks after clearing Part One main quests.

[Skill Enhancement & Ascension Materials]
 Dragon's Reverse Scale
 Great Knight Medal

[Ascension Materials]
 Archer Monument
 Archer Piece

[Other Items]
 QP

Items Obtainable with Lumber:

[Event Limited Craft Essence]
 ★5 (SSR) "Summertime Mistress"

[Event Limited Ascension Material]
 Bell-Ringing Branch
 * Unlocks after clearing Part One main quests.

[Skill Enhancement & Ascension Materials]
 Warhorse's Young Horn
 Shell of Reminiscence

[Ascension Materials]
 Saber Monument
 Saber Piece

[Other Items]
 QP

Items Obtainable with Food:

[Event Limited Craft Essence]
 ★5 (SSR) "Summertime Mistress"

[Skill Enhancement & Ascension Materials]
 Phoenix Feather
 Seed of Yggdrasil

[Other Items]
 Hero Crystal: Sun Fou ALL ★3 (ATK)
 Hero Crystal: Star Fou ALL ★3 (HP)
 QP

Items Obtainable with Fresh Water:

[Event Limited Ascension Material]
 Bell-Ringing Branch
 * Unlocks after clearing Part One main quests.

[Skill Enhancement & Ascension Materials]
 Octuplet Crystals
 Proof of Hero

[Other Items]
 Blaze of Wisdom ALL ★4 (SR)
 Fire of Wisdom ALL ★3 (R)
 QP

To commemorate "Summer! Ocean! Pioneering! FGO Summer 2018," a new Mystic Code will be available for a limited time only!
Complete the Mystic Code Quest to get your own "Brilliant Summer" Mystic Code, with new Master Skills available!

Available Period:
2018-07-26 00:00 - 08-21 20:59 PDT

One new Skill Enhancement and Ascension Item will be added with this event!
This item will be necessary to Ascend and perform Skill Enhancement for the new Limited Time and Event Limited Servants.
Gather it by defeating enemies that appear in event quests.
In addition, quests featuring some of the new enemies appearing in this event will be added at a later date.

Be sure to check out the fully animated trailer for "Summer! Ocean! Pioneering! FGO Summer 2018" on the Fate/Grand Order official site! It can be viewed from the top page and the Gallery.

Summer! Ocean! Pioneering! FGO Summer 2018 Pickup Summon 1 (Daily) Period:
2018-07-26 00:00 - 08-14 20:59 PDT

For a limited time, the "Summer! Ocean! Pioneering! FGO Summer 2018 Pickup Summon 1 (Daily)" will be available!

For this summer-themed event, Limited Time Servants "★5 (SSR) Tamamo-no-Mae (Lancer), " "★4 (SR) Anne Bonny & Mary Read (Archer)," "★4 (SR) Mordred (Rider)," and "★4 (SR) Kiyohime (Lancer)" appear in brand new summer wear!
* As the lineup for "Summer! Ocean! Pioneering! FGO Summer 2018 Pickup Summon 1 (Daily)" will change daily, "Anne Bonny & Mary Read (Archer)," "Mordred (Rider)," and "Kiyohime (Lancer)" will not be available to summon on certain days. Please be sure to confirm the lineup before summoning.
* "Tamamo-no-Mae (Lancer), " "Anne Bonny & Mary Read (Archer)," "Mordred (Rider)," and "Kiyohime (Lancer)" will not be added to Story Summon after the Pickup Summon period ends.

Please check the "Summon Info" on the bottom left corner of the "Summer! Ocean! Pioneering! FGO Summer 2018 Pickup Summon 1 (Daily)" screen for more details.

Furthermore, you can increase event item acquisition by equipping the Limited Time Craft Essences "★5 (SSR) Pirates Party!," "★4 (SR) Twilight Memory," and "★3 (R) Shiny Goddess."
* Limited Time Craft Essences available through the "Summer! Ocean! Pioneering! FGO Summer 2018 Pickup Summon 1 (Daily)" will have an event item bonus added for Part Two. Details will be given on the Part Two information page.

During the pickup period, the Limited Time Servants and Limited Time Craft Essences listed above will all have an increased drop rate!
* "Increased drop rate" indicates the featured cards will have higher drop rates than Servants or Craft Essences of the same rarity.

10x Summon will have 1 guaranteed ★4 (SR) or above card and 1 guaranteed ★3 (R) or above Servant!
* Guaranteed ★4 (SR) or above card will be either a Servant or a Craft Essence.
* Guaranteed ★3 (R) or above Servant will have a different distribution rate from that listed on the "Summon Info" screen.

| Pickup Period | Pickup Servant Lineup |
| --- | --- |
| 07-26 00:00 - 07-31 20:59 | Tamamo-no-Mae (Lancer), Anne Bonny & Mary Read (Archer), Kiyohime (Lancer), Mordred (Rider) |
| 07-31 21:00 - 08-03 20:59 | Tamamo-no-Mae (Lancer), Anne Bonny & Mary Read (Archer) |
| 08-03 21:00 - 08-06 20:59 | Tamamo-no-Mae (Lancer), Kiyohime (Lancer) |
| 08-06 21:00 - 08-09 20:59 | Tamamo-no-Mae (Lancer), Mordred (Rider) |
| 08-09 21:00 - 08-14 20:59 | Tamamo-no-Mae (Lancer), Anne Bonny & Mary Read (Archer), Kiyohime (Lancer), Mordred (Rider) |

(Added on July 25th)

★★★★★SSR
Pirates Party!
ATK 500 (MAX: 2000) HP 0
Skill
Apply Ignore Invincible & gain 3 C. Stars per turn for yourself + Increase Iron drop amount by 1 [Event only]

---

★★★★SR
Twilight Memory
ATK 200 (MAX: 750) HP 320 (MAX: 1200)
Skill
Apply Evade (1 time) & increase Quick Card effectiveness by 8% for yourself + Increase Stone drop amount by 1 [Event only]

---

★★★R
Shiny Goddess
ATK 0 HP 300 (MAX: 1500)
Skill
Increase DEF by 3% & Arts Card effectiveness by 3% for yourself + Increase Lumber drop amount by 1 [Event only]