06-10 PDT
[Achieved] The Great Tale of Demons Onigashima Official Announcement and Pre-Release Campaign



Starting on June 14th, it's Fate/Grand Order's newest event: "The Great Tale of Demons Onigashima"!
Sakata Kintoki appears as the Event Limited Servant "★4 (SR) Sakata Kintoki (Rider)!"
Clear story quests, conquer Onigashima, and get your own Sakata Kintoki (Rider)!
To celebrate the new event, we're holding a pre-release campaign on Facebook and Twitter! Check out the pinned post on the Fate/Grand Order USA Official Facebook for a preview of Limited Time Servant "★5 (SSR) Minamoto-no-Raikou!"
If the combined number of Facebook Reactions/Shares + Twitter Likes/Retweets for this post is:
over 15,000... we'll give away 4,000 FP + 1,000,000 QP!
over 20,000... we'll ALSO give away 3 Blaze of Wisdom (SR)!
over 25,000... we'll ALSO give away 3 Saint Quartz!
As always, thank you to every Master for your participation!
Fate/Grand Order Official Facebook: @FateGO.USA
Eligibility:
All users playing "Fate/Grand Order" as of 2018-06-13 20:59 PDT
Present Details:
Saint Quartz x3
Blaze of Wisdom (SR) x3
1,000,000 QP
4,000 FP
Planned Distribution Date:
2018-06-14 00:00 PDT
Distribution Method:
Present Box
* Clicking on the image will redirect you to the designated post on our official Facebook page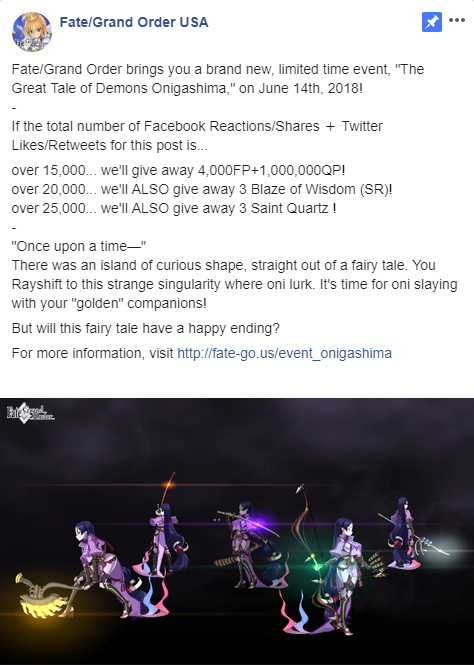 Thank you for your continuous support of "Fate/Grand Order."