12-29 UTC
[Achieved]SABER WARS Official Announcement and Pre-Release Campaign


Coming to your galaxy this January 4th: "SABER WARS - The Caliburn Awakens!"
"SABER WARS - The Caliburn Awakens" is a limited time event with an original story by Kinoko Nasu! A mysterious extraterrestrial suddenly appears in Chaldea. Can you perform your role as Master and complete Altria Pendragon (Lily)'s training?
-----
Masters, weeks ago you achieved the "London Pre-Release Campaign" goal. Now, we beg you to help us in the "SABER WARS Pre-Release Campaign."
We've stored information about the Noble Phantasms of "Mysterious Heroine X" and Event Limited Servant "Altria Pendragon (Lily)" within the memory systems of this pinned Facebook post. Follow the link below to retrieve it.
You must see this post safely to 10,000 likes OR 2,000 shares within the campaign period. This is our most desperate hour - and your chance to receive 3 Saint Quartz!
Help us, Masters of Chaldea. You're our only hope.
Fate/Grand Order Official Facebook: @FateGO.USA
Campaign Period:
Until 2018-01-04 3:59 UTC
Eligibility:
All users playing "Fate/Grand Order" as of 2018-01-04 03:59 UTC
Present Details:
- Saint Quartz X3
Planned Distribution Date:
2018-01-04 07:00 UTC
Distribution Method:
Present Box
* If the designated post does not reach either 10,000 likes or 2,000 shares by the end of the above campaign period, the distribution will be cancelled.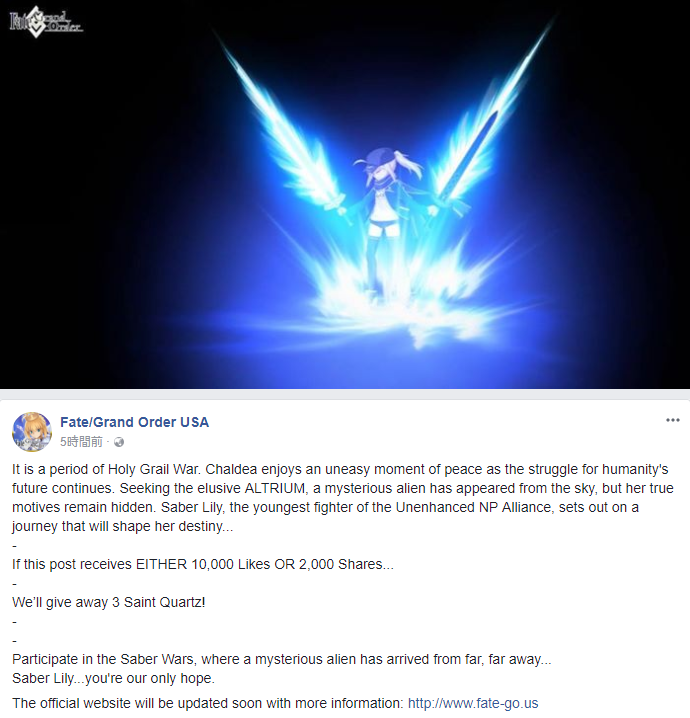 * Clicking on the image will redirect you to the designated post on our official Facebook page

The following Servants will receive a special bonus during "SABER WARS" Event Quests.

If properly enhanced, they will become powerful allies.
◆Featured Servants◆
Class
Rarity
Name
Saber
★★★★★
Altera
★★★★★
Okita Souji
★★★★★
Mordred
★★★★★
Altria Pendragon
★★★★
Altria Pendragon (Alter)
★★★★
Altria Pendragon (Lily)
★★★★
Nero Claudius
★★★★
Siegfried
★★★★
Chevalier d'Eon
★★★
Fergus mac Róich
★★★
Gaius Julius Caesar
★★★
Gilles de Rais

Thank you for your continuous support of "Fate/Grand Order."