12-08 UTC
[Achieved]Fourth Singularity: The Mist City London Official Announcement and Pre-Release Campaign


On December 19th, the curtain will finally be drawn on "Fourth Singularity: The Mist City London!"
The Fourth Singularity will take place in London, during the Industrial Revolution where new Servants face off in a thrilling conflict.
To commemorate the release of the new chapter, we're holding the "London Pre-Release Campaign" on the Fate/Grand Order USA Official Facebook!
If you can help us get the pinned post "London Pre-Release Campaign" to 20,000 Likes OR 5,000 Shares within the campaign period, every Master will receive 10 Saint Quartz!
Check out the pinned post for an exclusive look at the Noble Phantasms of two new Servants who play an important role in Chapter 4: Mordred and Frankenstein!
Thank you to all Masters for your participation!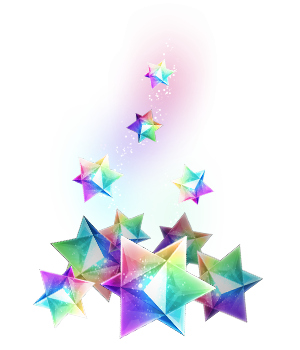 Fate/Grand Order USA Official Facebook: @FateGO.USA
Campaign Period:
2017-12-07 19:00 - 2017-12-19 03:59 UTC
Distribution Period:
2017-12-19 07:00 - 12-26 03:59 UTC
Eligibility:
Anyone who has played "Fate/Grand Order" during the above-mentioned period.
Present Details:
- Saint Quartz x10
Distribution Method:
Present Box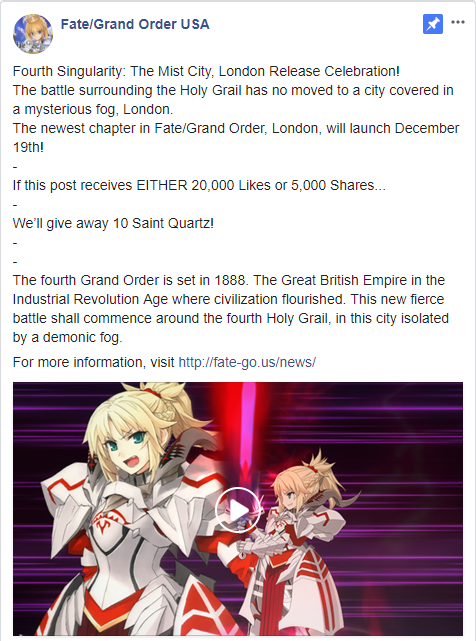 * Clicking on the image will redirect you to the designated post on our official Facebook page
Thank you for your continuous support of "Fate/Grand Order."